Welcome and Thank You for Visiting Us Today!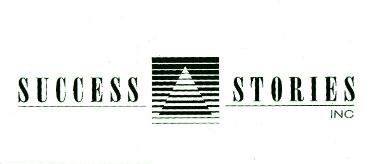 Success Stories, Inc. was created in 1990 to help existing and newly formed companies with management and marketing consulting. We have helped our clients achieve extremely cost-effective growth and revenue generation through practical marketing plans, solid public and media relations and appropriate use of advertising.

Success Stories has a very strong expertise in healthcare, start-ups and not for profit organizations. In 2014, we decided to more accurately reflect what we do for our clients. We are really activists because our clients want us to work with them to get things done. Providing consultation, in an environment where time is precious, is not efficient. We are more "actively" involved in a partnership toward achieving results. We are not coaching from the sideline, we are on the field and in the game.

When you hire Success Stories, the president of the company works with you - not an account executive. Further, we don't have the overhead or big agency expenses, so we pride ourselves on delivering true and meaningful value. Like most of our client's businesses, Success Stories is run like a tight family company based on passion, experience and a dedication to achieve success. Our 25th year!
HEALTHCARE HOSPITALITY

EVALUATION, METRIC MANAGEMENT, SYSTEM DESIGN, TRAINING, POLICY AND PRACTICE DEVELOPMENT & HUMAN RESOURCE INTEGRATION, RECRUITMENT STRATEGIES AND AMBASSADOR PROGRAMS.
-Every Encounter is a Risk or an Opportunity-
If your organization does not have a formal healthcare hospitality program in place, your business is at risk in today's competitive, patient-directed, integrated care models. No provider is immune and we haven't talked about the 20-somethings yet.
We are NOT talking about standard customer service practices; rather, we are recommending comprehensive and pro-active behavioral changes at every level of service from the boardroom to the parking lot.
Our team approach helps your organization ramp up quickly, but extremely professionally to ensure long term adoption of a critical business practice.
As one provider's attorney said to us, "One lawsuit avoided by practicing hospitality would pay for your consultation for years to come. We have so many claims that have more to do with internal blaming, poor communication, fractured treatment teams, petty turf issues than poor medical care. My frustration is changes are not system-wide and emails about improvement are poison pen threats."
Sadly, his organization said they have a vice president of patient centered care and did not need healthcare hospitality help. The hospital had recently been notified of a six figure amount they will be penalized regarding their 30-day readmission rate.
Please call us today at (716) 481-4578. Thank you!